Wimbleball K1 open 2019
On March 23rd Wimbleball Sailing Club hosted the first K1 open meeting of 2019. An overcast day and a NE wind of 15-18 mph and gusts of 25mph gave the competitors a great days sailing. Visitors from Tewkesbury SC, Bartley Green SC, Frensham Pond SC, and Lyme Regis SC and the seven K1 sailors at Wimbleball SC made up a fleet of 12.
Our race officer Chris Dyer set the course 8- 4- X, close racing with Simon Hawkes 1st (WSC) leading the fleet followed by Paul Birbeck 2nd  (WSC),  Gordon Keyworth 3rd  (WSC),  Guy Woodhouse 4th (Lyme Regis SC) and Hilly King 5th (Frensham SC).
The fleet came in for an excellent meal made by Steve Sharp a club Member.
2nd Race a new course 9-10-X giving almost a mile beat and run, Simon Hawkes in 1st followed by Paul Birbeck 2nd, Guy Woodhouse 3rd and Gordon Keyworth 4th Hilly King 5th
3rd Race a new course 7-4-1 Yes its Simon Hawkes out in front followed by Gordon Keyworth 2nd Paul Birbeck 3rd Hilly King 4th and Guy Woodhouse 5th
Congratulations to Paul Handley for designing the K1 what an amazing dinghy. On the day after the K1 Open, K1's finish 1st 3rd 4th and 7th in the Exmoor Beastie 3 hour pursuit race.  Another great dinghy the RS Aero was the only intruder.
Thank you all for attending and you are very welcome to visit Wimbleball SC and race any Sunday of the year.
Colin Allen
Commodore
2019 Exmoor Beastie
On the day after the K1 Open, K1's finish 1st 3rd 4th and 7th in the Exmoor Beastie 3 hour pursuit race.  Another great dinghy the RS Aero was the only intruder.
Thank you all for attending and you are very welcome to visit Wimbleball SC and race any Sunday of the year.
Colin Allen
Commodore
Windermere open 2019
South Windermere Sailing Club (SWSC) at the south end of Lake Windermere welcomed the K1 fleet to a weekend of racing in its beautiful surroundings and unique conditions.
R1 on Saturday was sailed in a northerly F1-2, gradually, and sometimes quite abruptly swinging to the North West,
and back again.
Visitor Geoff King got a great start, so great he had to go back and do it again. Hilly King from Frensham Pond seemed to take to the shifty conditions, and led pretty much the rest of the race to win  comfortably, with locals Mike Deane and Jack Thompson following in 2nd and 3rd.
R2 started as a bit of a drifter, and then got worse.  Hilly King again seemed to have it under control, and gradually drifted away from the fleet, and looked good for the win until about 100yds from the finish. At that
point a little bit of breeze came in from behind, some from the NW and some
from the NE, and all the competitors closed up the point that they were pretty much all in a line. In the last 40yds there were at least 4 different leaders and at the finish line it had to be the closest finish ever recorded. 1st to 7th finished within a few seconds, and it literally took a photo finish to sort it out.  Mike Deane poked his bow out in front to take the win, followed by Gordon Keyworth and David Pritchitt.
Sunday started with a bit more breeze, this time from the NE. Race 1 was a clean but very close start, and everyone remained closely bunched on the beat. Hilly's luck (or preparation?) ran out as his jib halyard snapped and his jib fell down. Steve Conway then managed to pull out a lead of nearly a leg on lap 1 but locals Jack and Mike gradually reeled him, and had a close dice, with Jack leading at the gun.
The wind then swang more to the east. However there is no such thing as an easterly at South Windermere because as the wind comes over Gummers Howe it becomes more of a downdraft than a wind. It didn't stop a the fleet being over eager at the start of R4, resulting in the first general recall of the weekend. After the next start Hilly played the shifts in the middle of the lake to get a good lead by the windward mark. But Jack Thompson again started to work his way through the fleet, and gained a place each lap, until the last lap where he took a lift up the centre of the lake and into the lead. Jack had a very nervous run down to the finish though, as the fleet again closed right up behind him, but he kept ahead for his second win of the day. Geoff King slipped through into 2nd with Hilly 3rd.
Overall Jack took a well deserved win, with Mike on the same points but 2nd on countback, with Hilly 3rd.
A fun weekend was had by all, including the spectators and race crews.
For more photographs please view in gallery.
Results at: https://www.swsailing.co.uk/series/2116
K1 Travellers at Teign Corinthian Yacht Club
by Michael Commander 13 May 10:45 BST12 May 2019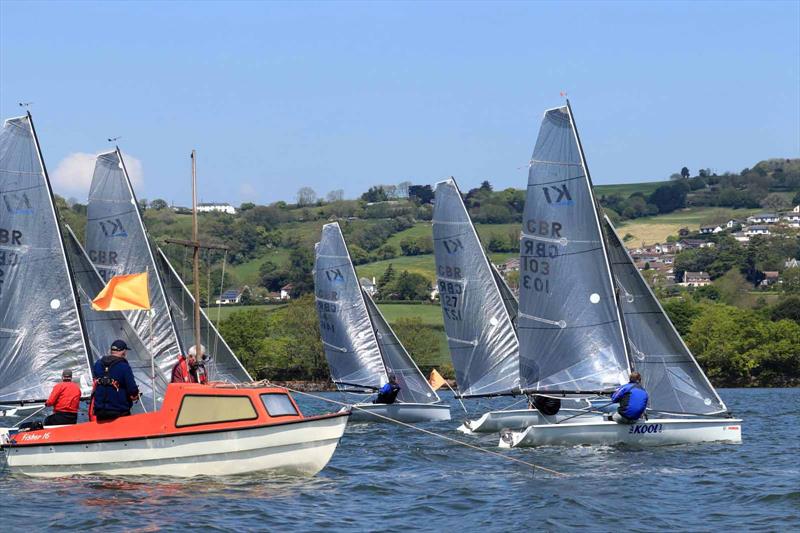 K1 Travelllers at Teign Corinthian © Heather Davies
The visitors were able to join in the club racing on the Saturday while watching loads of club youngsters enjoy a river treasure hunt on their River Teign Adventure. On Sunday three back to back races were planned and executed by our race officer Steve Pocock no doubt helped by the steady 12 knot easterly which was reinforced by the sea breeze coming up the valley champagne sailing!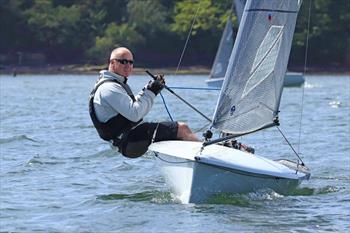 Race 1 got underway with a clean start with two boats getting away from the bunch up the first beat. Ian Duke was closing in on the windward mark when Mike Commander ducked his transom and a short while later tacked on starboard and able to lead around the first mark. Sailing four laps of a triangle, sausage course Mike was able to build on his lead each lap and finished first with Ian second and Geoff King third.
Race 2 followed a similar pattern but this time Gordon Keyworth gave chase to Mike. The first beat saw Gordon head left into the main channel while Mike played the middle of the course. The left clearly paid as Gordon had lovely lift coming in to the top mark and headed off on the triangle with Mike chasing hard. The second reach saw Gordon defend his lead as he pushed over to the south bank of the river and both ended up running down to the leeward mark. Again Gordon headed left up the beat only to fluff his rounding and let Mike through who mistakenly thought he was on a triangle and both sailed off to the wing mark. Fortunately for them they both had such a lead over the rest of the fleet that James Stevenson couldn't capitalise even though he sailed the correct down-wind leg.


K1 Travelllers at Teign Corinthian – photo © Heather Davies
Race 3 saw some aggressive starting with James, Jeff Vander Borght and Mike all vying for the committee boat end of the line. Realising there was no room at the committee boat Mike ducked both as Jeff squeezed James up and the wrong side of the race officer. The extra pace bearing away saw Mike sail close up under the lee of Jeff and away he went to record his third bullet of the series.
Huge thank-you to the race management team at TCYC and all the helpers on and off the water that made it such an enjoyable weekend. Even had people saying they now wanted to move down to Devon! Success.
Overall Results:
| Pos | Helm | Sail No | Club | R1 | R2 | R3 | Pts |
| --- | --- | --- | --- | --- | --- | --- | --- |
| 1st | Mike Commander | 103 | TCYC | ‑1 | 1 | 1 | 2 |
| 2nd | Gordon Keyworth | 129 | Wimbleball SC | ‑6 | 2 | 2 | 4 |
| 3rd | Ian Duke | 73 | Datchet Water SC | 2 | ‑5 | 4 | 6 |
| 4th | Geoff King | 115 | Tewkesbury C & S | 3 | ‑4 | 3 | 6 |
| 5th | James Stevenson | 85 | TCYC | 5 | 3 | (DNS) | 8 |
| 6th | Geoff Vander Borght | 127 | Lyme Regis SC | 4 | 6 | (RET) | 10 |
| 7th | Graham Blackwell | 52 | Bartley SC | ‑7 | 7 | 5 | 12 |
| 8th | David Pritchett | 105 | Rutland SC | 8 | ‑9 | 6 | 14 |
| 9th | Steve Conway | 146 | Rutland SC | ‑9 | 8 | 7 | 15 |
| 10th | Colin Allen | 25 | Wimbleball SC | 10 | 10 | (DNC) | 20 |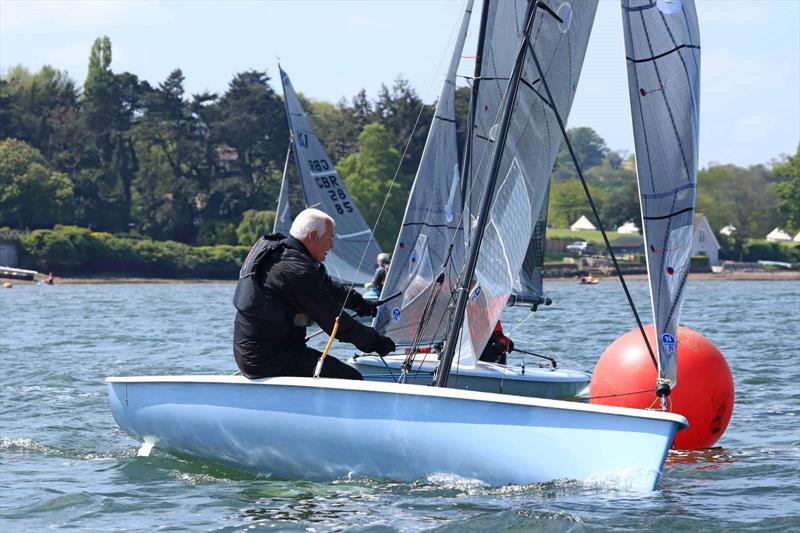 Snell's K1 sweeps the Weston Grand Slam
by Andy Rice 23 Apr 10:12 BST20-21 April 2019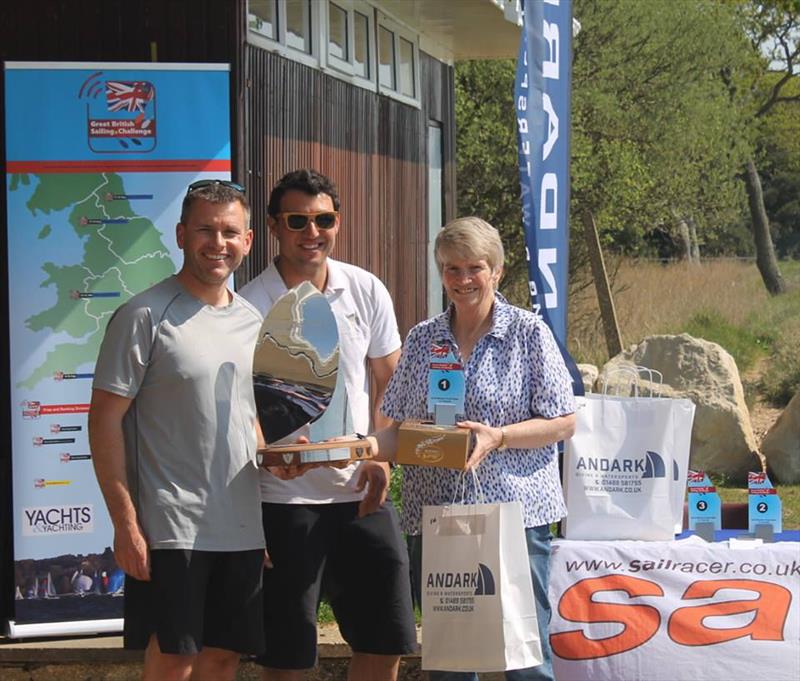 Weston Grand Slam 2019 © Jonny Howe
Andrew Snell's K1 keelboat won the Weston Grand Slam convincingly on a tropical and light airs Easter weekend in Southampton Water. With 48 entries, this was the first tidal event in the Great British Sailing Challenge calendar and an opportunity for monohull dinghies, multihulls and small keelboats all to compete against each other. At times, all boat types had a sniff of the front of the fleet but the dying breeze ultimately suited the momentum of Snell's K1.
The main event over Saturday and Sunday was preceded by the Rooster Time Trials on Good Friday. A bit like the qualifying session of a Formula One grand prix, the aim is to clock the fastest time (under handicap) around the course. There was a window between 12pm and 3pm, with many of the fast boats waiting ashore in the belief that the final hour would bring a good sea breeze, whilst the slow boats headed out early. In the end the breeze died as the sea and land breeze battled it out, meaning the fastest laps recorded early on. It was a local Enterprise that benefited from the lighter breezes, with Christopher and Kayleigh Spencer winning the Rooster Time Trials.
One of the opportunities of the Great British Sailing Challenge events is to hold your own open meetings and championships within the bigger event. The Hadron H2 class chose the Saturday of the Weston Grand Slam for their own open meetings and seven boats contested the day. In the end it was very close between Dave Barker and Richard Leftley who had a photo finish in R2 which had to be resolved with SailRacer GPS trackers and recorded positions, meaning Barker won overall.
As for the massed fleet, race one took place in the best breeze of Saturday, as the occasional gust wafted across the course at about 10 knots. Race one was won on corrected time by Ralph and Sophie Singleton in their RS800 ahead of John Tuckwell's Nacra Carbon 20 from Bala. Just six handicap seconds behind the foiling catamaran was Snell's singlehanded keelboat with the Formula 18s of Grant Piggott/ Simon Farren and Simon Northrop/ Caleb Cooper in fifth and sixth.
With the wind beginning to die for Race 2, the fast catamarans struggled to match their handicap performance of the earlier heat, although Tuckwell still managed fourth on corrected time. Snell's K1 was really coming into its won, dominating the race while Steve and Sarah Cockerill finished 2nd in their RS400 ahead of Val Millward's Challenger trimaran.
Race 3 was even more of a drifter which again gave Snell the victory, this time ahead of Rich Vincent's RS Aero 9 and Dave Barker's Hadron H2.