Snell's K1 sweeps the Weston Grand Slam
by Andy Rice 23 Apr 10:12 BST20-21 April 2019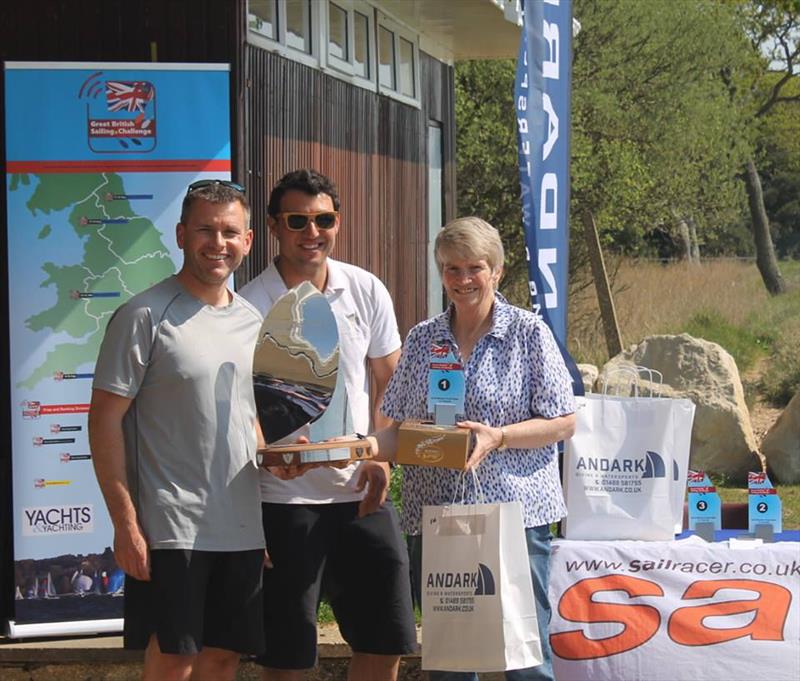 Weston Grand Slam 2019 © Jonny Howe
Andrew Snell's K1 keelboat won the Weston Grand Slam convincingly on a tropical and light airs Easter weekend in Southampton Water. With 48 entries, this was the first tidal event in the Great British Sailing Challenge calendar and an opportunity for monohull dinghies, multihulls and small keelboats all to compete against each other. At times, all boat types had a sniff of the front of the fleet but the dying breeze ultimately suited the momentum of Snell's K1.
The main event over Saturday and Sunday was preceded by the Rooster Time Trials on Good Friday. A bit like the qualifying session of a Formula One grand prix, the aim is to clock the fastest time (under handicap) around the course. There was a window between 12pm and 3pm, with many of the fast boats waiting ashore in the belief that the final hour would bring a good sea breeze, whilst the slow boats headed out early. In the end the breeze died as the sea and land breeze battled it out, meaning the fastest laps recorded early on. It was a local Enterprise that benefited from the lighter breezes, with Christopher and Kayleigh Spencer winning the Rooster Time Trials.
One of the opportunities of the Great British Sailing Challenge events is to hold your own open meetings and championships within the bigger event. The Hadron H2 class chose the Saturday of the Weston Grand Slam for their own open meetings and seven boats contested the day. In the end it was very close between Dave Barker and Richard Leftley who had a photo finish in R2 which had to be resolved with SailRacer GPS trackers and recorded positions, meaning Barker won overall.
As for the massed fleet, race one took place in the best breeze of Saturday, as the occasional gust wafted across the course at about 10 knots. Race one was won on corrected time by Ralph and Sophie Singleton in their RS800 ahead of John Tuckwell's Nacra Carbon 20 from Bala. Just six handicap seconds behind the foiling catamaran was Snell's singlehanded keelboat with the Formula 18s of Grant Piggott/ Simon Farren and Simon Northrop/ Caleb Cooper in fifth and sixth.
With the wind beginning to die for Race 2, the fast catamarans struggled to match their handicap performance of the earlier heat, although Tuckwell still managed fourth on corrected time. Snell's K1 was really coming into its won, dominating the race while Steve and Sarah Cockerill finished 2nd in their RS400 ahead of Val Millward's Challenger trimaran.
Race 3 was even more of a drifter which again gave Snell the victory, this time ahead of Rich Vincent's RS Aero 9 and Dave Barker's Hadron H2.