K1 Travellers at Teign Corinthian Yacht Club
by Michael Commander 13 May 10:45 BST12 May 2019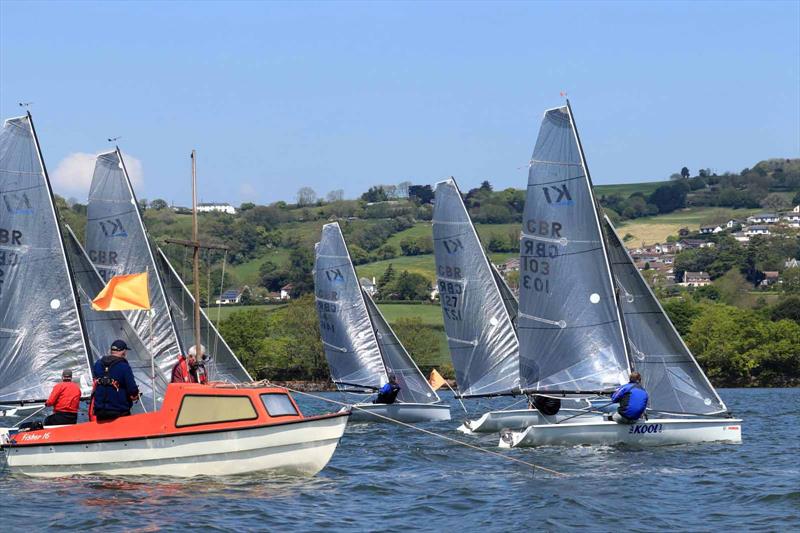 K1 Travelllers at Teign Corinthian © Heather Davies
The visitors were able to join in the club racing on the Saturday while watching loads of club youngsters enjoy a river treasure hunt on their River Teign Adventure. On Sunday three back to back races were planned and executed by our race officer Steve Pocock no doubt helped by the steady 12 knot easterly which was reinforced by the sea breeze coming up the valley champagne sailing!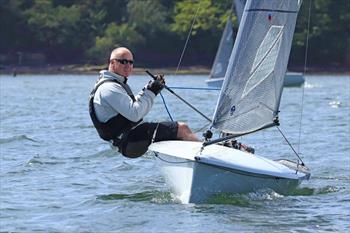 Race 1 got underway with a clean start with two boats getting away from the bunch up the first beat. Ian Duke was closing in on the windward mark when Mike Commander ducked his transom and a short while later tacked on starboard and able to lead around the first mark. Sailing four laps of a triangle, sausage course Mike was able to build on his lead each lap and finished first with Ian second and Geoff King third.
Race 2 followed a similar pattern but this time Gordon Keyworth gave chase to Mike. The first beat saw Gordon head left into the main channel while Mike played the middle of the course. The left clearly paid as Gordon had lovely lift coming in to the top mark and headed off on the triangle with Mike chasing hard. The second reach saw Gordon defend his lead as he pushed over to the south bank of the river and both ended up running down to the leeward mark. Again Gordon headed left up the beat only to fluff his rounding and let Mike through who mistakenly thought he was on a triangle and both sailed off to the wing mark. Fortunately for them they both had such a lead over the rest of the fleet that James Stevenson couldn't capitalise even though he sailed the correct down-wind leg.


K1 Travelllers at Teign Corinthian – photo © Heather Davies
Race 3 saw some aggressive starting with James, Jeff Vander Borght and Mike all vying for the committee boat end of the line. Realising there was no room at the committee boat Mike ducked both as Jeff squeezed James up and the wrong side of the race officer. The extra pace bearing away saw Mike sail close up under the lee of Jeff and away he went to record his third bullet of the series.
Huge thank-you to the race management team at TCYC and all the helpers on and off the water that made it such an enjoyable weekend. Even had people saying they now wanted to move down to Devon! Success.
Overall Results:
| Pos | Helm | Sail No | Club | R1 | R2 | R3 | Pts |
| --- | --- | --- | --- | --- | --- | --- | --- |
| 1st | Mike Commander | 103 | TCYC | ‑1 | 1 | 1 | 2 |
| 2nd | Gordon Keyworth | 129 | Wimbleball SC | ‑6 | 2 | 2 | 4 |
| 3rd | Ian Duke | 73 | Datchet Water SC | 2 | ‑5 | 4 | 6 |
| 4th | Geoff King | 115 | Tewkesbury C & S | 3 | ‑4 | 3 | 6 |
| 5th | James Stevenson | 85 | TCYC | 5 | 3 | (DNS) | 8 |
| 6th | Geoff Vander Borght | 127 | Lyme Regis SC | 4 | 6 | (RET) | 10 |
| 7th | Graham Blackwell | 52 | Bartley SC | ‑7 | 7 | 5 | 12 |
| 8th | David Pritchett | 105 | Rutland SC | 8 | ‑9 | 6 | 14 |
| 9th | Steve Conway | 146 | Rutland SC | ‑9 | 8 | 7 | 15 |
| 10th | Colin Allen | 25 | Wimbleball SC | 10 | 10 | (DNC) | 20 |